Features
Overview:

Systor's Hard Disk Drive (HDD) / Solid State Drive (SSD)

High Speed Dual Port

Duplicators are the best in it's class. A

complete standalone

unit

that can clone a 3.5" and 2.5"

hdd/ssd to multiple hard disks alternately in a single touch of a button. It copies the data sector by sector from the source drive to the target drives simultaneously, regardless of brand, operating system or format of the drives. The copy includes partition and boot sector information for a perfect clone.

Systor HDD/SSD Duplicators are also

DoD compliant

when it comes to sanitizing / erasing data in the hard drive, this feature has been added to ensure that there are no trace of content left behind and for the consumers security and peace of mind.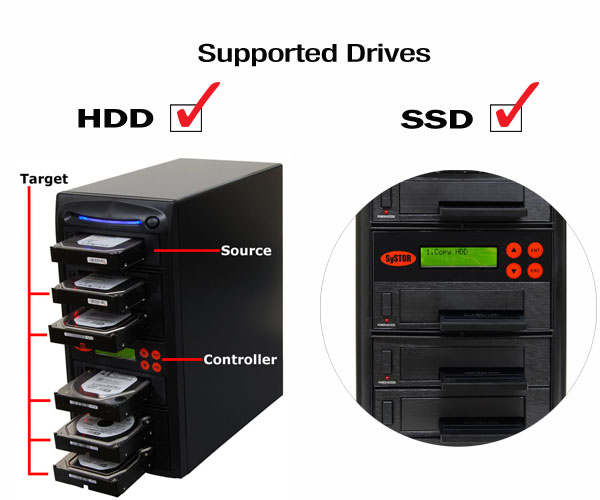 General Features:
HDD Sanitization/Eraser Features:
DoD 5220.22-M

Data Sanitation Compliant
Secure Erase:

Deletes and replace

the entire hard drive data with zero strings.
Permanently wipes sensitive data to counter data remnants.
Duplication Features:
Copy multiple hard drive

simultaneously at once.

Copy speed is up to

150MB/sec.

Clones hard disk data sector by sector.
Supports major brands of 3.5" & 2.5" SATA hard drives & SSD solid state drives.
Work

equally well cloning

any environment, including Windows, Linux and Macintosh.
Reproduce the content faithfully, whether the source disk is FAT16/32 or NTFS formatted.
Hardware Features:
The stylish all-black door has built in vents for optimal cooling and air flow to keep your drives running at their best. To further enhance the cooling, included is a rear outtake fan on each drive.
A new feature to the hard drive duplicator is the LED status light. This allows the user to keep track of their drives without having to be right in front of the workstation.
40mm rear warm air outtake fan on each drive ensures an optimal cooling environment.
Quick, Easy and

Hot swappable

slot loading dual port drives.

High Performance

Power Supply.
Built to

endure long-time

operation.
Copying Option

Source

Target

Supported

3.5 SATA HDD/SSD

3.5 SATA HDD/SSD

YES

3.5 SATA HDD/SSD

2.5 SATA HDD/SSD

YES

2.5 SATA HDD/SSD

3.5 SATA HDD/SSD

YES
SPECIFICATIONS

FEATURES



Device Type

Interfaces
Load Type

Maximum Transfer Speed


9GB/min (150MB/sec). Actual performance is dependent on HDD transfer speeds.

Capacity


Supports the largest sized devices available on the market

Operating Type


Stand-alone, FPGA-based operation (Non PC-based)

Supported Languages


English
Japanese
Spanish*
Portuguese*

(* Not available on all models)

LCD Display


Backlit Monochrome LCD Display

Buffer Memory

HDD Hot Swap

Control Panel


4 Push Buttons (▲, ▼, OK, ESC)

Color

FUNCTIONS



Copy Modes


System & Files (Quick Copy Mode):
Copies data and skips empty space. Only supports Windows, Mac, and Linux.
Whole Media:
Copies from the initial sector to the end, bit-by-bit. No format limitations. Supports all systems and proprietary formats, along with various brands.
All Partitions*:
Copy or skip HPA, DCO, unknown partitions, modified formats, etc., defined by settings.
Percentage*:
Copies the selected range of the source's total capacity, starting from the initial sector.

(* Not available on all models)

Compare Function


Bit-by-bit data comparison

Sanitization Modes


Quick Erase:
Erases the table of contents of file system of target hard drives.
Full Erase:
Erases entire device(s), in compliance with the NIST 800-88 standard.
DoD Erase (NIST SP 800-88 R1):
Erases the target hard drive's total capacity bit by bit by adding 0s to each bit of each sector.
DoD Erase:
Complies with DoD 5220 standard to fully erase the target hard drive by rewriting bit by bit three times to guarantee data is permanently deleted.


Read-Only Source Port

| | |
| --- | --- |
| COMPATIBILITIES | |
| Compatible Devices | 2.5"/3.5" SATA HDDs and SSDs |
| Supported Formats | Quick Copy Function: FAT16/32/64, Windows (NTFS), Linux (Ext2/Ext3/Ext4), and Mac (HFS, HFS+, HFSX) |
| Whole Device Copy Function | All formats, including proprietary formats: GPT, MBR, and advanced formats |
| Supported O/S | All (Windows, Mac, Linux, and other proprietary systems). |
| | |
| --- | --- |
| SPECIFICATIONS | |
| Power Supply | Universal Power: 115VAC or 230VAC, 50/60Hz |
| Working Temperature | 5°C ~ 45°C (41°F ~ 113°F) |
| Storage Temperature | -20°C ~85°C (-4°F ~ 185°F) |
| Working Humidity | |
| Storage Humidity | |
* Specifications are subject to change without notice.